MAIN FEATURES OF WOODEN HANGERS
2019-09-05
QINGDAO HEAD PRODUCTS INT'L COMPANY
WOODEN HANGERS
Generally, wooden hangers are characterized by the following features:
Ha

ve the ability to hold heavier clothes. They are even suitable for heavy skiing, diving, and fishing garments. This can be achieved by using the appropriate hook accessories.

Natural wood can be used for a long period of time and can be naturally degraded if discarded, with less damage to the environment.

The wood grain of pure natural wood gives the garment more natural features. It transmits a feeling of stability.

The sources of the raw materials can use FSC certificates to control the damage to forests.

The requirements for raw materials are not too high. As long as the wood used is not too soft, it can meet the standard of bearing 3 kg weight.

Size, color and style can be made according to the requirements of the designer.

This year, our customers' demands on hanger wood have also diversified. In addition to the commonly used maple, eucalyptus and lotus, as well as pressed wood, other materials have been added. A good example are hardwoods such as beech and elm, among others. There are also wood products with insect-repellent effects such as camphor wood. And environmentally friendly bamboo raw materials.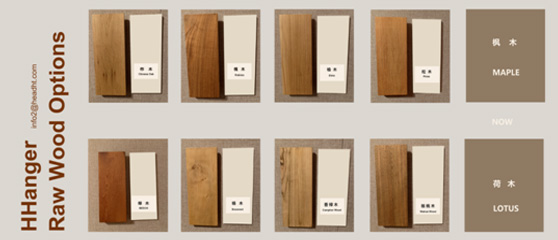 In 2005, Qingdao Head Products Int'l Company began to produce and sell wooden hangers in China. Since then, our company has been committed to the production of medium and high quality wooden hangers. Now, we have even sent our technology and equipment to Africa, which offers more options for our customers. We can provide very professional customized production services. Do not hesitate to contact us if you need a professional in clothes hangers.
HHANGER MARKETING TEAM

Get Your FREE Quote
We will contact you within 24 hours.